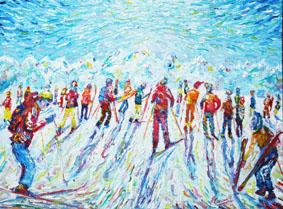 This week sees the online opening of the new exhibition of Pete Caswellís new seasonís Ski and Snowboard Paintings celebrating the winter of snow, fun and sunny skies in the European Alps.

Last year Pete toured the Alps on the first part of his trip to photograph, ski and snowboard the most exhilarating and highest ski and snowboard resorts in the Alps. This series of paintings is a collection of all the top runs in the Alps above 3000m where snowy glaciers remain all year.

These places are very special, on top of the world, incredibly remote, and yet you can get there on a fast and powerful ski lift in minutes with very little effort. You are put where human habitation is not possible, but with the help of a lift pass and a board strapped to your feet you can have an incredible amount of fun.

Itís as if these places collect the all the fun up in the world and throw it back at you every time you visit. There is nothing else at this high altitude to pollute...