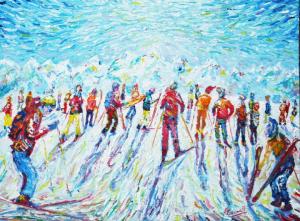 How to love paintings.
I love my art and I hope you do as well. What is there to love about my art? What I paint is what I love and what I love I am pretty sure you do as well. I travel the world skiing, snowboarding, sailing, windsurfing, swimming surfing at all those places you would love to. In the paintings I try to work in some of the key elements which remind us all of the fun and pleasure we had travelling or holidaying in that very special location. Devoid of worry, work and routine, these paintings are created in an air of pure fun and enjoyment. I don't have to paint, just as I don't have to travel but like one and the other for me they are both from the same place. Where I travel I love. I leave all my past behind and take only the pure joy with me. Where I paint I travel into the painting, its the same thing freeing and beautiful and fun. As I focus on the painting, I become absorbed into the painting, where it is and the special atmosphere of that place, time, or moment. It is a pure pleasure to revisit those times and put that treasured feeling into a painting and re-live all that fun.

Some of the paintings are a little more abstract and link to a special moment like a sunset or ocean view. Others can be more place specific and capture a special place where I have been. For each painting I try to capture the essence of joy, freedom and fun which will lead to you the viewer feeling uplifted and happy every time you look at it. The semi abstract nature of the paintings allow the paintings to trigger your own memories of happiness and fun which you have experienced. They contain just enough detail to trigger feelings of upliftment and allow you to travel into the paintings and feel happy.

Take a look at the web site and see some of the special paintings for sale from around the world. For Skiing and snowboarding paintings for sale try the online gallery at www.petecaswell.co.uk/skiing%20paintings%20for%20sale/. For beautiful sunsets and ocean scenes for sale try www.petecaswell.co.uk/impressionist%20paintings%20for%20sale%20jalbum/. To read a bit more about Pete and his art look at his home page www.petecaswell.co.uk.